The power of
video on seo
Videos are a key factor for boosting and improving SEO AND WEB SEO
You've surely heard the term SEO (search engine optimization) a million times. But did you know that adding video to your website can dramatically improve your SEO and attract more visitors to your site?
Many people forget that videos can boost SEO and web traffic. Here are 2 interesting video statistics:
 – 7 out of 10 marketers optimize video for SEO (Renderforest). Why? Because with video they get big results. You are 53% more likely to appear on the first page of Google if you have a video on your homepage or on you blog posts.
– Marketers who use video attract 41% more traffic to their website than non-video users and marketers who use video earn 49% faster than non-video users (Optinmonster).
Online videos are one of the most popular online content formats, and there are tons of reasons for producing a video. We have listed below the most common SEO benefits of embedding video on a website :
Videos allow visitors to stay on your website longer by engaging them with your content. Short, informative videos keep people "hooked" on your content much longer than text and images.
In fact, people stay on websites with video 60% longer than websites with only text and images. Google likes pages where people spend time, they call this "dwell time".
The video also helps with the number of backlinks to your domain. Studies show that the higher the quality of your content, the more likely you are to get backlinks.
To produce quality content, read our 5 tips to attract attention to your marketing videos and increase viewership.
When Google displays a video thumbnail next to a search result, which it does for 26% of search results according to BrightEdge, users are more likely to click on that list.
The presence of the thumbnail makes the result a "rich snippet," and rich snippets tend to have higher click-through rates than standard snippets.
Google and search engines love the use of video. Google's algorithms are increasingly prioritizing websites with video content, and that's not something you want to ignore; 93% of online experiences start with a search engine, so you want to do everything you can to appear on that crucial first page.
If your competition is not using video, then you will have a good chance of staying one step ahead of them by installing a video marketing strategy.
Hosting your videos on YouTube, Instagram, Facebook, LinkedIn and other social media platforms improves SEO efforts while attracting new traffic to your website. With that in mind, you should post your videos to all of your social platforms.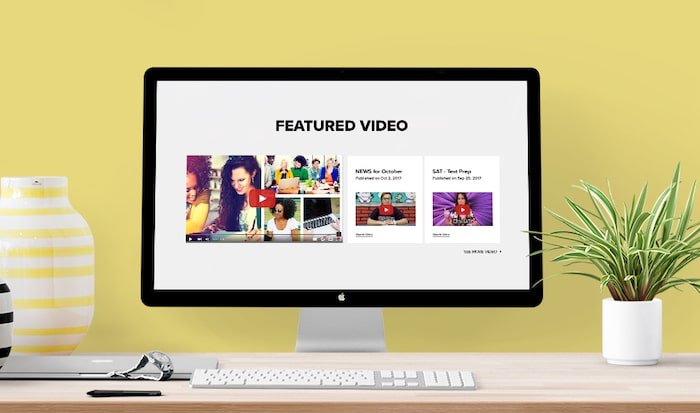 To sum up, video benefits SEO both directly and indirectly – video alone likely influences your ranking, and it influences other factors that go into Google's selection system.
Therefore, the best way to beat your competition is to publish quality videos on your website and on all of your social media platforms, that will encourage people to visit your website, spend more time on it and share your link (hello backlinks).
Our video marketing specialist can help you during the strategic phase, no strings attached.